The Centers for Medicare and Medicaid Services (CMS) recently released rules for the new Annual Wellness Visit that is now part of Medicare. Included in this preventive health care visit to the physican's office is "detection of any cognitive impairment that the individual may have".
**New: Download the MyBrainTest Consumer Fact Sheet on cognitive screening tests.
**New: Annual Wellness Cognitive Exam packet now available for health care providers. Includes standardized Annual Wellness Visit Exam Form and Personalized Prevention Plan Service template: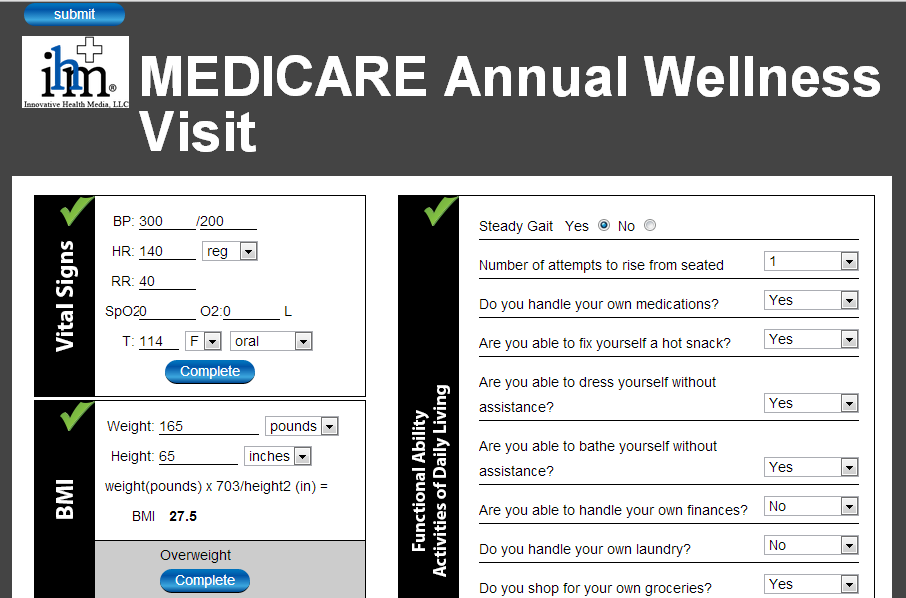 – – – – – – – – – – – – – – – – – – – –
Cognitive screening sounds straightforward until you begin to think about how implementation for millions of office visits should happen:
1. "Detection of any cognitive impairment" is rather broad, and could include anything from Alzheimer's to very rare forms of frontotemporal dementia like Pick's disease.
2. The CMS rules leave it up to the individual physician on how to implement cognitive screening — anything from simple observation, or providing an antiquated paper test like the Mini Mental exam, to administering a newer computerized memory screening test are all available options to a medical practice.
The main problem with this approach, however, is lack of standards for administering a cognitive screen, and just as important, lack of common reporting on test results. How does one compare the results from a cognitive screen paper test to the score from an online memory test? Imagine if we didn't have a common standard for blood pressure readings, or a common measure for cholesterol levels, and you can see the problem.
The solution will need to be a national level consensus on a small number of well validated computer based and/or paper based cognitive screening tests that are easy to administer in a doctor's office, and provide accurate indications of early signs of cognitive impairment. Most of the paper tests like the MMSE that are used by many clinicians completely miss early signs of memory impairment — the newer computerized tests do a much better job at this.